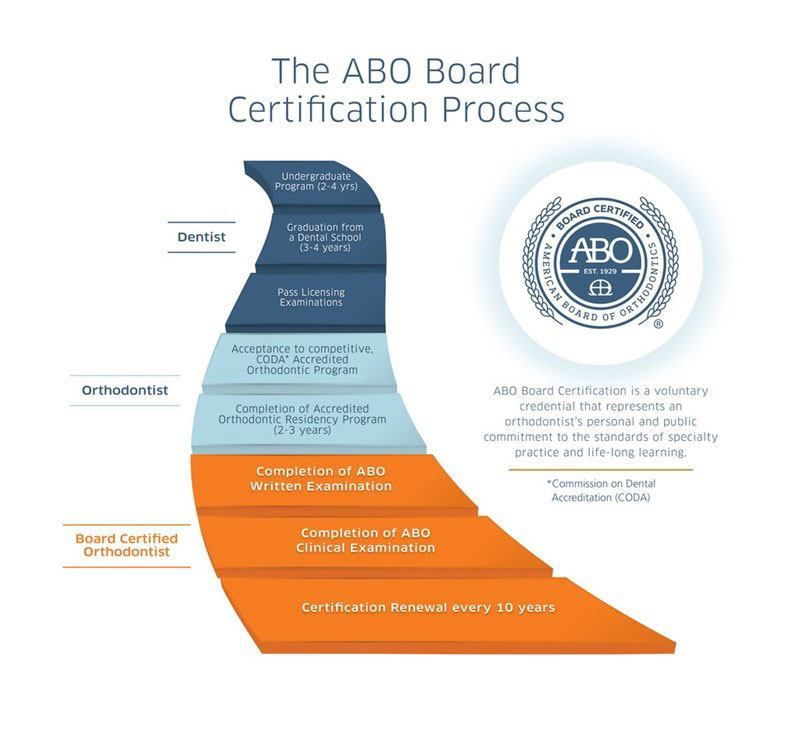 Selecting an orthodontist can be difficult. It's a big decision for you and your family. The most important factor is choosing a doctor who provides the highest level of care. The best way to insure this is to select a board-certified orthodontist. Obtaining this certification shows that the orthodontist has exhibited the highest levels of skill and knowledge beyond his or her advanced education requirements. Dr. John Lawson has obtained this board certification through the American Board of Orthodontists (ABO). This achievement which includes a written, oral, and clinical examination shows his absolute dedication to patient care. Only one-third of orthodontists in the United States have gone on to complete board certification. When you choose our office, rest assured you will be receiving the highest level of expertise possible.
Why complete this voluntary certification?
To become an orthodontist, most practitioners have to have completed 4 years of college, 4 years of dental school and then a 2 or 3 years certificate in orthodontics. Many people wonder why a dental specialist would choose to pursue orthodontic board certification after all those years of schooling. Orthodontists who complete this high achievement simply wish to demonstrate their commitment to excellence to their colleagues and their community. We believe it shows the ability to provide the highest level of care possible.
What does it take to become certified?
Obtaining the board certification through the ABO is a rigorous and time consuming process. Currently, the procedure involves a written examination which covers a comprehensive understanding of orthodontics. Once this is successfully completed, the orthodontist must present actual patient case reports. These are evaluated by a panel of experts, and discussed during the oral examination. This oral examination is the final phase of board-certification. If the applicant successfully passes these stages, he or she is then officially board-certified for a limited time period. Every 10 years, the orthodontist must maintain their certification through continued testing.